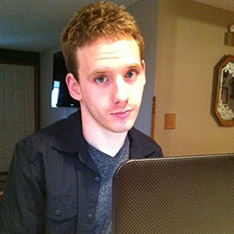 The Fulbright application process was very rewarding to me, even though I did not end up being selected. First of all, writing the two essays (the statement of grant purpose and personal statement) really gave me an opportunity to think about what my goals and interests were for the grant and also about my future just in general. The campus interview went extremely well for me; I felt I handled myself very well and conveyed my passion to help increase awareness about male eating disorders and help sufferers. I also feel as if the interview gave me an opportunity to show the amount of knowledge I have concerning the topic, which continues to grow everyday. Additionally, the interviewers all commented on how well I handled myself, and the excellent interview that they felt I had just completed. This made me feel very proud, and this feeling was rewarding within itself.
The hardest part of the process for me was writing the statement of grant purpose and personal statement. I am kind of a perfectionist, and I often stressed over not feeling as if the essays were good enough. However, thanks to my Fulbright advisor, I got feedback that helped to reduce my stress concerning the essays and was able to work with my advisor to complete two essays which I felt good about and comfortable submitting.
The most rewarding part of the entire process was simply being able to get my story and intended education plan to help other men into the public eye of the Fulbright Commission and interview committees. The topic of male eating disorders is still very "hush, hush" in the US, and I feel very proud of myself for stepping up and attempting to do something about it—which I still fully intend to do! Of course, the application process in itself was rewarding, as I was able to become familiar with what it is like to apply for a nationally competitive education grant and to interview with committees.
The Fulbright application process (particularly writing the two essays) helped me to further recognize what type of research I wanted to do relating to male eating disorders and how that research could make a difference. In addition to the knowledge I already knew on the topic of male eating disorders and treatment, the additional research that I did for the application essays further confirmed to me the need for this issue to be looked at and for something to be done.
I saw applying for the Mark Twain Fellowship as a second opportunity to potentially take some of the financial burden off myself for the UK graduate program and research that I would also be doing; I planned (and am) doing the program regardless of the outcome of the grants. It was a little less stressful seeing as I had just been through the application process for the Fulbright. In addition, I was able to include my Fulbright application in my Mark Twain Fellowship application for the committee's further reference. Being able to include my Fulbright application allowed me to have to do less in-­‐depth explaining in my actual Mark Twain Fellowship application, which saved both time and stress from building up again. I felt very honored to be one of the 5 finalists for the Mark Twain Fellowship, and even though I did not end up being the chosen as the recipient, I am very glad that I took the opportunity to again familiarize myself with applying for a competitive grant at a large university. The interview for the Mark Twain Fellowship was less stressful, as I had completed the interview for the Fulbright not that long before and it gave me a sense of what to expect. However, no two interviews are ever exactly the same. Again, similar to applying for the Fulbright, I felt proud of my efforts to bring the health issue of male eating disorders to light and hopefully to people's attention—which I think I did!
One of the best things I have learned from my time of applying for education grants at Mizzou is that hard work pays off. Of course, maybe not in the way you were expecting. What do I mean by this? I mean that while I didn't end up receiving either grant, I still see my work paying off because I was able to get the message out to the individuals/committees about this particular health issue and that action needs to be taken. In addition, I was able to discuss my proposed actions to raise awareness, which hopefully sparked thinking within those individuals about what we can do to change the gender stereotypes our society instills.
I still plan to travel to the UK to complete a Master's program at University College London, even though I was not awarded either grant. I will study eating disorders & clinical nutrition, in addition to doing research at eating disorder facilities around London to observe and evaluate the care males with eating disorders receive. The UK has much more awareness of male eating disorders, and it will be a goal of this research to pinpoint what is done differently in the UK that allows greater awareness. Additionally, I hope to organize and be the founder of the first support organization in the US specifically for males suffering from eating disorders. There is an organization of this type in the UK already.
In closing, my experience applying for the Fulbright and the Mark Twain allowed for some great rewards, even though the final outcome may have not been the ideal one. I feel very honored to have been a finalist and for receiving such high praise on my interviews, particularly for the Fulbright. Many students applying and competing for these grants may think going into it that it will only have been worth all the time and effort if they end up receiving the grant—but as I have said above, this is not the case. There are still many rewards for the applicant during the application process itself, including improving your writing and interviewing skills, that will likely be beneficial to you in the future. I encourage anyone considering applying for one of these grants to do it—you never know what can happen and where it might take you.