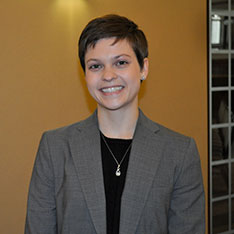 Helen Bass grew up in Kansas City, the daughter of a self-described "blue-collar working stiff" who saw that a college education would open doors that were never open to him. When Helen came to Mizzou, she discovered a need to go beyond textbooks, to "bridge the gap between theory and the real world," setting for herself a goal of retaining a connection to her working-class background while expanding her knowledge and understanding of the broader world. So as an undergraduate Helen spent a semester in Buenos Aires, handled constituent relations in Senator Claire McCaskill's office for a summer, worked as a teaching assistant for a Microeconomics class, received merit awards from the Economics Department and from the College of Arts & Science, served as president of Tigers Advocating for Political Participation, conducted research in Anthropology as well as in Economics, and was inducted into Phi Beta Kappa.
As the 2016-2017 Mark Twain Fellow, Helen has earned a master's degree in Law & Economics at the University of Reading, studying the intersection of public and private interests in law. In her application for the fellowship, she indicated that she intended "to apply lessons from Economics … to explore positive, cooperative solutions to recurring legal issues" and that her program in England would "create a bridge to the next step—law school." Helen still intends to go to law school, but the international perspective she has gained from a 90-student program that included only one British citizen and only one American (Helen) has inspired a different vision of her future, in which her legal practice will span the Atlantic. While she has learned that there are "fundamental, ideological differences between E.U. and U.S. law," she has also seen and heard a wide range of "interesting perspectives on the ways that the American economy, military, and media have influenced other peoples."
Helen knows that England was a dominating force worldwide into the twentieth century, with a "reach [stretching] across oceans, continents, languages," so that "people from every corner of the planet converge on this little stretch of land." Now, as she wonders "how the American legacy will change in [her] lifetime," she grasps more deeply than ever before "how the world seems both bigger and more interconnected"—through trade, through education, through law, through individuals who make the connections work. And she offers this advice to anyone considering applying for an international fellowship (or simply studying abroad as an undergraduate): "Focus on a town you can live in—and try to live in it," a place to listen to "opinions on local elections from a diverse set of acquaintances, reaching out … heading out alone for a night, only to find yourself surrounded by people you've met at a university club or local art centre" (note the British spelling, after nine months).
Helen has not yet decided where she will go for law school, nor where she will practice, but she has used the Mark Twain Fellowship to expand her vision of what she might accomplish.