By Logan Jackson
Published on Oct. 19, 2023
As an advisor in the University of Missouri Office of Global and National Fellowships, Lauren Pike helps match Mizzou students with fellowship opportunities that align with their goals. As students navigate the application process, Pike and her fellow advisors offer support and guidance each step of the way.
Pike helped numerous Mizzou students secure fellowships this past year – and a summer experience abroad will allow her to form an even deeper connection with the students she advises. Pike participated in the "Politics and Society in Central Asia" study abroad program this summer in Kyrgyzstan, led by Mary Stegmaier, vice provost for international programs at MU. It was the first time that Pike had traveled abroad.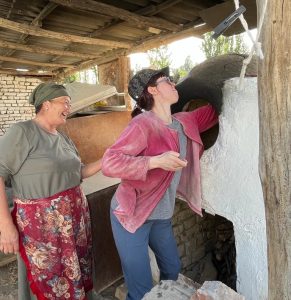 "We oftentimes have scripts for ourselves and narratives about who we are and what we're allowed to do," Pike said. "For me, I had never been overseas and didn't think international travel was for me. In the same way, many students think that a fellowship is for someone else, maybe a certain major or someone with a specific service experience. I discounted myself like students sometimes discount themselves. This experience was vital in allowing me to change my personal narrative and will also allow me to better relate to my students who are traveling overseas for the first time."
Pike, who earned an English degree from Mizzou, was alerted to the professional development opportunity earlier this year by Megan Boyer, director of advising for the Honors College. While Pike was a bit hesitant to apply for the opportunity, Erik Potter, program manager of the MU Office of Global and National Fellowships, encouraged her to go for it.
"I came up with plenty of excuses as to why I shouldn't apply," said Pike, who received funding from the Honors College and the Truman School of Government and Public Affairs to participate in the program. "It took Erik's urging and his confidence in me that I would be a good fit. I needed that encouragement. That experience really reinforced the importance of the work our office does, too. Students have those doubts and that's OK. It's completely normal. Having someone give you the confidence that you are a great candidate really makes a difference."
Pike felt the program in Kyrgyzstan would tie in closest to the current work she is doing. While Pike aids with various award opportunities, she plays a vital role for students applying for Critical Language Scholarships (CLS). A program focused on intensive overseas study in critical-need foreign languages, students who earn the scholarship spend eight to 10 weeks abroad studying one of 13 critical languages, such as Arabic, Hindi or Russian. The award is granted by the U.S. Department of the State.
Russian is one of the two national languages spoken in Kyrgyzstan.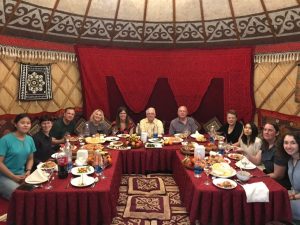 "The more I looked at the options, Kyrgyzstan continued to stand out to me," Pike said. "I was definitely intrigued by everything the program offers. Plus, a lot of the fellowships I advise for have a language component. As I did more and more research, it seemed like a solid fit."
Pike went through the application process for the study abroad program, briefly stepping into the shoes of the students she advises. She had to write an essay highlighting her motivations for wanting to participate in the opportunity.
"The questions I ask students were the same questions I was pondering," Pike said. "When you're sitting on the other side, it's tough. I was diving into the self-reflection that I encourage students to do.
"It was good to sit in that uncomfortable space where I was looking inward and trying to earnestly say what my motivations were. I was trying to describe everything genuinely when there are countless clichés that came to mind. It's challenging to take those vulnerable feelings floating around in your head and put them on paper."
The "Politics and Society in Central Asia" study abroad program allows participants to hear from practitioners, scholars and locals about the political, economic and societal challenges facing Kyrgyzstan and how the government and international community are working to address them. The experience includes multiple site visits around the country and an opportunity for individuals to immerse themselves in a different culture.
The group that participated this summer included faculty, staff and students.
"It was really great to have the entire study abroad experience," Pike said. "I was able to receive training and participate in the experiences that I tell students to go out and get. I visited places that I know students will also see and got a taste of what their education would look like. The program is really going to help me give students an assessment of what they can expect."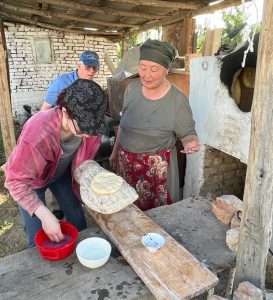 Pike said there were many highlights of the trip, but one evening stood out. The group had dinners with two local families. Part of the experience included an opportunity to watch the families prepare traditional Kyrgyzstan dishes – plov and nan. Pike, who enjoys cooking in her free time, said she was mesmerized by the entire process, especially watching the matriarch of the family stick the nan bread to the roof of an incredibly hot tandyr.
"I had one of the program leads translate and ask if I could shape one," Pike said. "She hadn't even finished translating when the matriarch slapped a large ball of dough in front of me. She was so gracious and worked with me on the technique. I would watch her do a step and then replicate, with her correcting things along the way.
"She then wanted me to put the nan I made in the tandyr. I was nervous, but I knew I would never get an experience like this again. I went through each step and made it work. I'll never forget that experience. Them allowing me into their home and letting me cook with them was very special to me."
It is those personal interactions that Pike said she can call back to when she talks with a student about their reservations of applying for a fellowship.
"I stepped off a plane after 30 hours of combined travel and couldn't read a single street sign," Pike said. "I had to adapt. Many fellowships are looking for that adaptability – and after this experience I'm much more comfortable helping students pinpoint those examples. I can ask better questions and can help them find those key talking points.
"This experience allowed me to grow in so many ways. I learned that it's OK to be a bit uncomfortable and to be wrong at times and have to ask for help. It was incredibly enriching, and I'm excited to bring everything back to help Mizzou students even more."